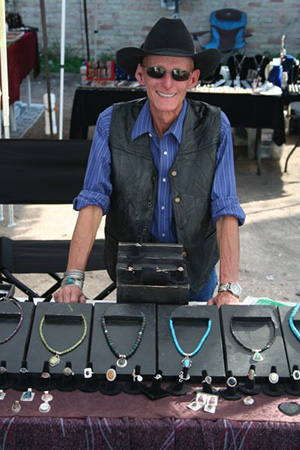 Michiel Rushing is a self taught jeweler. At the age of thirteen, he began cutting stones and then started creating jewelry at fifteen. His first show in an art gallery was at age sixteen.

Michiel traveled across the country following the rodeo circuits and selling his art. Then he spent six years in Nashville, Tennessee, selling his jewelry out of The Mine Shaft. In Nashville, he developed a large clientele, including the singer Melody, John Travolta and the Ronnie Milsap family. John Travolta wore one of Michiel's bolos in the movie, Pulp Fiction.

He now calls Austin, Texas home. Michiel currently shows his work at locally as well as statewide.

Michiel uses a lot of rare and unusual stones in his designs and does custom work of many types. Please visit Michiel or contact him for your jewelry needs.

Michiel Rushing
512.585.4475
michiel@masterpiecesbymichiel.com



© Michiel Rushing. All rights reserved.